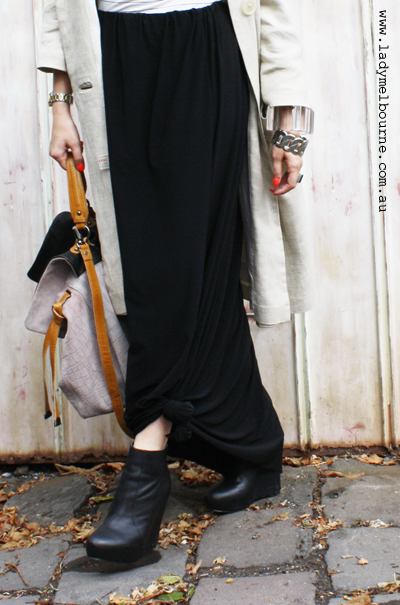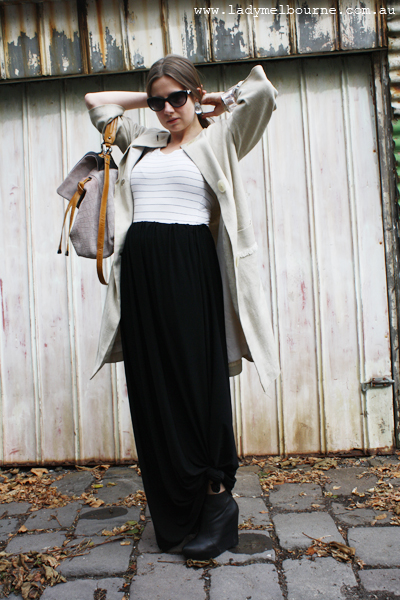 I always like to find 'do-it-yourself' options, specially when it comes to on trend items that may only find their way into your wardrobe for one season. I thought I'd try my hand at a maxi skirt and black wasn't going to be such a disaster if it didn't work out. I'm very pleased to say that it did AND you can probably make it even if you can't sew. Behold….
EDIT 18.4.11: As requested, what I'm wearing
Linen coat: Vintage, it was a gift
Tshirt: Primark, London
Booties: 'Shia' from Sportsgirl
Bag: ASOS- it was such a bargain too!!
Clear cuff: Minty Meets Munt
Sunnies: Chanel
Chain cuffs: Ritual
Earrings: I made them myself
Ring: My christmas pressie from ma and pa
Watch: Longines
Some things you'll need: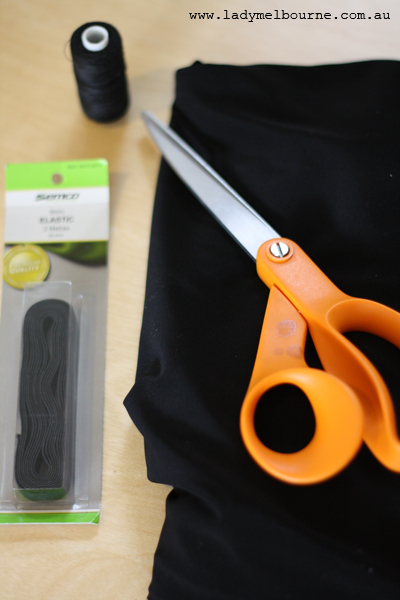 I've used black jersey because I wanted a rather fluid effect and material that was going to be warm and relatively sturdy for winter. The width was 1.47mt and you'll probably need a width of at least 1mt to make this.
You'll also need:
Your waist measurement in elastic(and preferably one that matches your fabric!)
Thread
Scissors
Pins
Needle
Fabric
Sewing machine if you have one
Step 1:
I've actually used the width(1.47mt) as my length of the skirt, which I know might sound confusing for some but it's meant that I've got a rather long maxi effect which is what I was after. So it means from my waist to the hem, my skirt will have a length of 1.47mt.
Fold your fabric in half, right sides together and pin the selvages together. Sew. Now you should have one side seam.
Choose which end will be the waist of your skirt and fold over the fabric about 3cm and pin as seen below. Fold towards the inside of the skirt. Pin.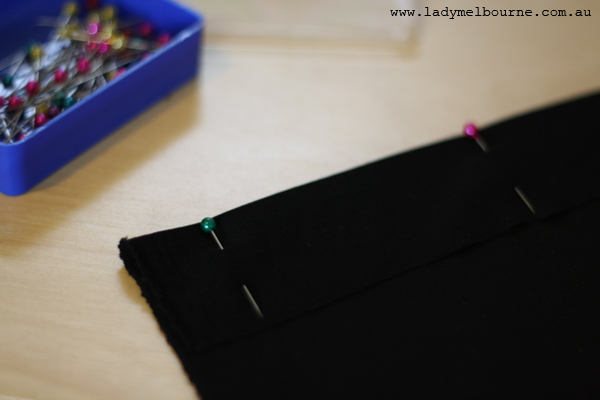 Now sew as seen here either by hand with a needle and thread, or with a sewing machine. Make sure that you don't join together, leave a little gap or 'hole' of a couple of centimetres so you can pull through your elastic waist band.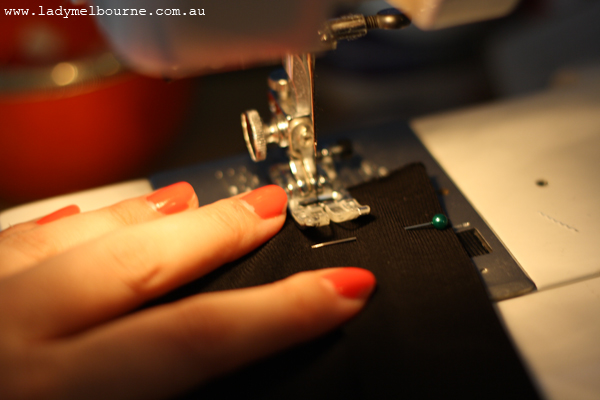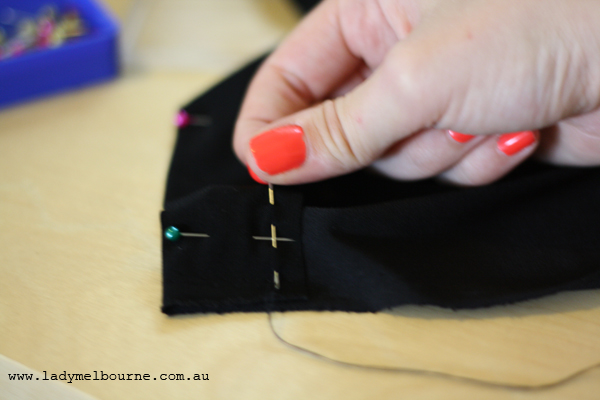 If you don't have a sewing machine, although slow this is easy to do by hand.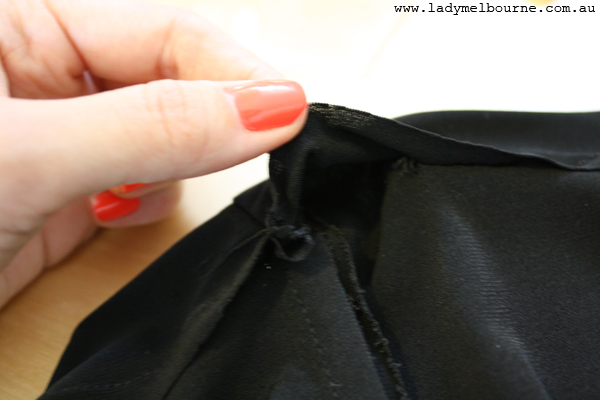 Leaving a gap is really important so you can thread through your waist band!
Step 2
Measure your waist measurement and cut elastic.

Step 3
Attach a small(or large!) safety pin to one end of the elastic. This will make pulling it through the waistband much easier.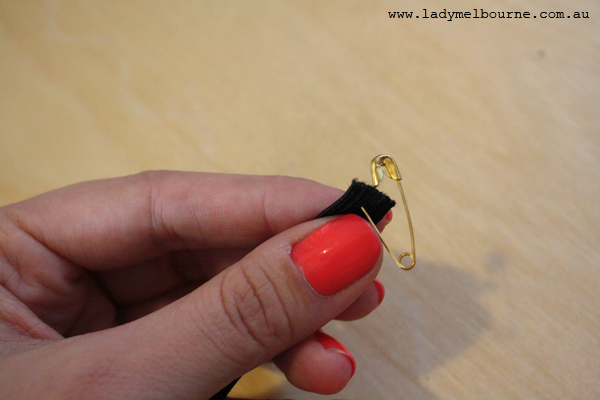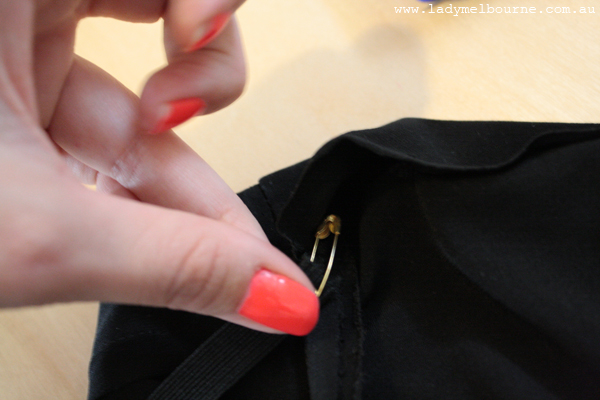 Once you have pulled your elastic all the way through you should see both ends meet like the photo below. Then you want to sew the elastic together securely- remember this is what will keep the skirt up!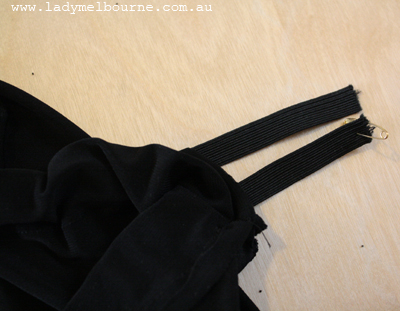 Step 4
Pull the elastic through the waistband and you should get a nice gathered or 'ruched' effect. Now you need to sew up that hole.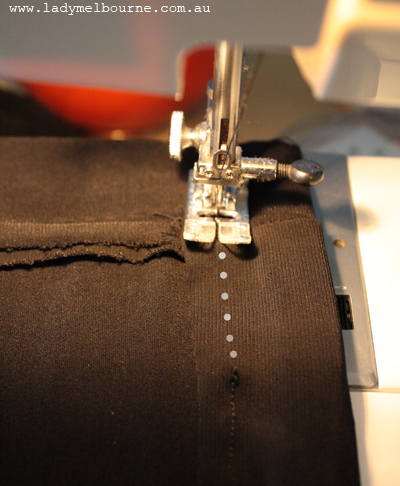 Thats it!
You can hem the skirt, but as I've used jersey and it doesn't fray, all I've done is cut it so it's even, and shortened it a little. You can see in the photos I've knotted it too which I think gives a really nice effect.
So how easy was that?! No pattern neccessary, no sewing machine(if you have the patience!) and completely on trend for winter. Now, go forth and sew!