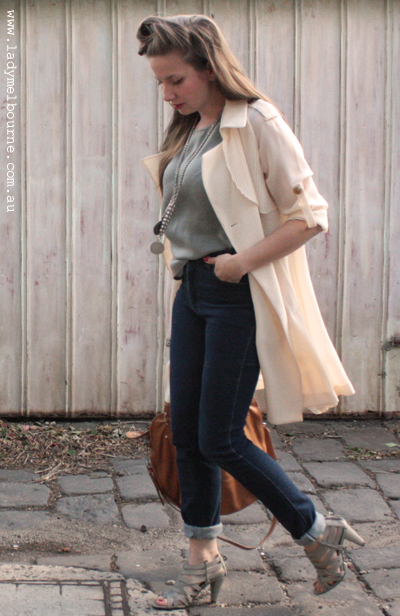 One of my friends asked me the other day: 'Do you ever wear jeans?'
She does see me outside of occasionally checking the blog but rarely if ever wearing denim. I've always figured that you don't log on here every day to see a gal strutting about her city in a pair of jeans and that there are sort of, more interesting things to wear like this or this. Or this, or this.
So on a more casual day this is what you might find me wearing, or how I wear jeans when I do wear them. And they're vintage no less.
This bag is rather new and was a Christmas present from Kikki K of all places. I had no idea they even did bags and beautiful leather ones at that. It has a 13″ laptop bag that comes with, you can pull it out or insert at your liking. So now rather than lugging my yoga/laptop/spare heels/kitchen sink bag around as well as my handbag, it's all in one.
What I'm wearing:
Jeans: Vintage Faberge
Silk Tank: Silk shop in the Block Arcade
Trench with pleats: Living Doll from David Jones
Heels: Parker Roche
Leather Bag: Kikki K
Necklaces: Single medallion is from Samantha Wills, the other is a Tiffany bracelet that I wear on a necklace.