My computer = Kaput
The hard drive on my beloved (and I say beloved because lets face it, I can't live without it) Mac Book Pro crashed three days ago and I am currently without a computer. I'm borrowing time on computers when ever I can, but until the problem is fixed and I have a computer back full time, the blog will be slightly interrupted. Fear not, I'll still be updating but it might just make new content a little harder.
So with that in mind I thought I'd take you back to a post I did last year called 'Nanna chic: Millers.' I really love so much about it, the light, my nails and the fact that my top is from Millers.
Enjoy!
Cover image courtesy of Camille Leon.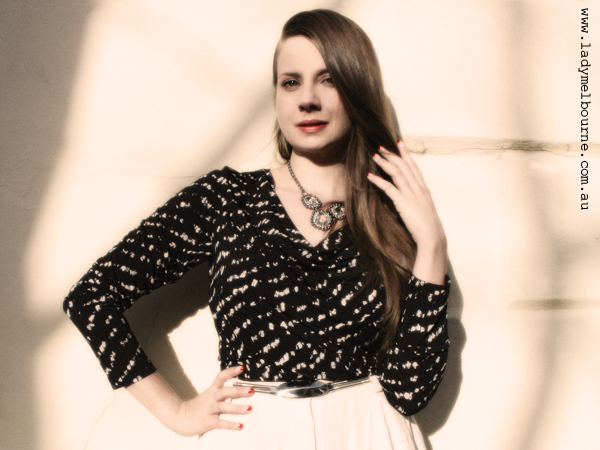 For those of you overseas readers, Millers is a budget clothing retailer here in Australia that caters mainly to an older demographic. It's not exactly fashion forward and you will never see their items grace the pages of Vogue et al.
As I am eternally on a fashion hunt and love the thrill of the chase, I popped in with Mother Melbourne on a recent shopping trip. This top was $12 on sale and although you can't really see it in the pictures, the front of the top is ruched and pinned just so, a la Vivien Westwood.
I wore it to the Feathers(at the complete other end of the fashion spectrum) 40th Birthday celebrations last week and was complimented all round by what was a rather posh crowd. I didn't say where I got it, just smiled wryly to myself and said, 'This old thing?'
Pray tell dear readers do you have your own secret shopping haunt? I wonder now what else I might find at Millers amongst the elastic waist pants and sensible polar fleece vests.
What I'm wearing:
Top: Millers
Skirt: Laura Ashley
Belt: Sportscraft
Necklace: Imagination on Swanston St
Manicure: Miss Fox Melbourne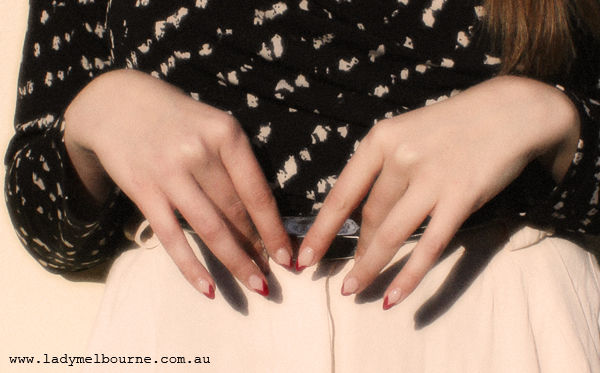 My latest manicure from Miss Fox. Not quite a love heart, not quite a reverse french manicure. It's a mash up of an Illamasqua design and a manicure that Lana del Rey has been sporting lately. I LOVE it.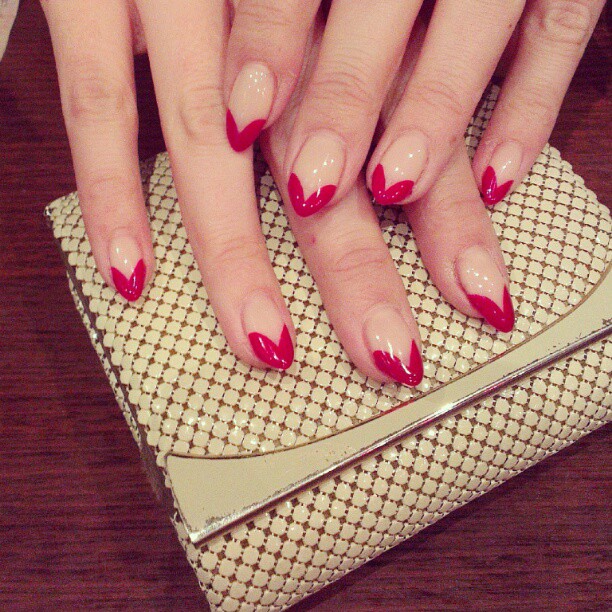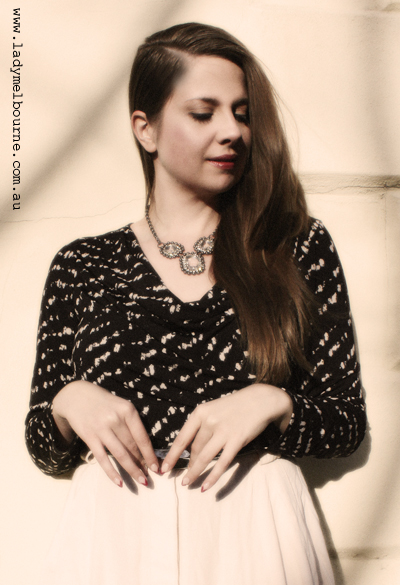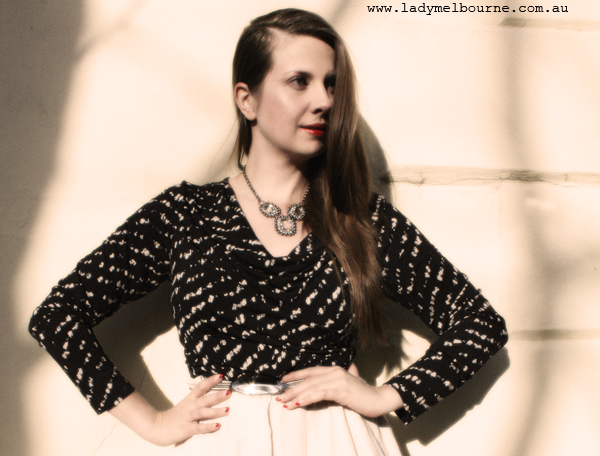 Category: All Fashion