Meeting Miranda Kerr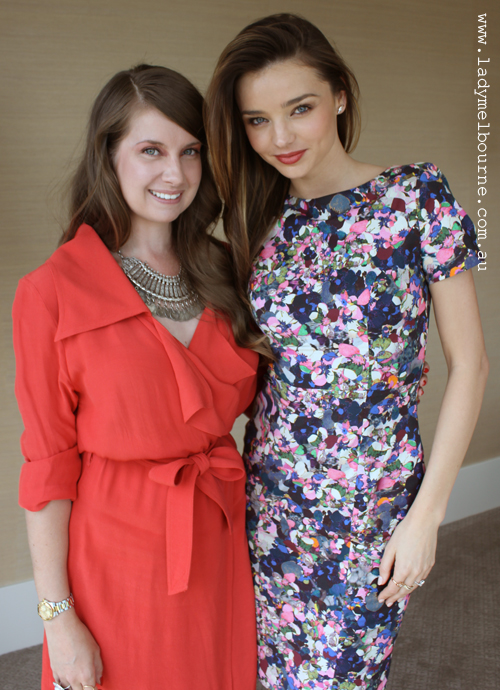 I thought my interview with Miranda Kerr would be over before it had even begun.
My opening question* about recent controversy surrounding the at times extreme diet and exercise measures taken by the 'Angels' in the lead up to the Victoria Secret Fashion Show** had the PR's hopping from foot to foot and rushing to intercept.
'No no, it's fine. They're going to say no, but I'm saying it's ok,' Miranda says as we sit in a private suite overlooking Melbourne on the 23rd floor of Crown Towers.
'I've studied nutrition, so I'm very passionate about health and wellness. I always try to encourage those around me to do the same so that they're at their optimum.
'I can't speak for the other girls, but I feel that women really need to rearrange their mind around focusing on what is best for them health wise as opposed to counting calories.'
'I'm about the 80/20 rule, because life is for living. 80% of the time I'm extremely healthy, giving my body the nutrients it needs to keep up, and then there is the 20%.'
Kerr is here to talk about  'Clear Scalp & Hair Beauty Therapy' of which she is the brand ambassador and is really the reasonI am sitting in front of her today.
I jumped at the chance to chat with her when it was offered because I was curious to meet her after reading Amy Odell & Jada Yuan's article in The New York Times '178 Minutes With Miranda Kerr.'
The article caused somewhat of a media storm at the time  because they described Kerr as showing 'a strong reluctance to utter any sentences not purely banal.'
It also detailed the incredible entourage that more often than not surrounds her, and while there were only 2 publicists and 3 security guards in tow when we meet, the idea of someone being so highly 'managed' was personally fascinating.
During our chat, Kerr details how she started Kora Organics as she's passionate about leading an organic life and wanted created products that reviltalise the skin.
So how does this organic ethos fit with working as a brand ambassador for Clear?
'It's with the 80/20 rule. Using Clear is the 20% indulgence because I haven't found an organic shampoo that delivers the results that I need.'
Maybe you could create one through Kora I ponder?
'Maybe,' she blinks back and smiles the smile of what I can only imagine is that of someone who is in a position to take on a rather lucrative ambassador position even if it only fits in with your lifestyle 20% of the time.
The conversation ensues around healthy fats, food (cold pressed, green-tea, juice daily, for glowing skin I'm told) and nutrition for a healthy existence.
This leads me on to her thoughts about why she's managed to have such a long career as a model, when many people have relatively short careers in what can be a fickle industry. Stamina? A health life style to keep in shape?
'You know from day one I guess maybe it was my country up bringing, but I saw it for what it was. I understood that it could all be gone tomorrow.
'I thought, 'Lets travel, lets meet interesting, creative people.' I've always tried to have fun on set. But if it all ends tomorrow I have so many other things I want to do in my life.'
At this point I'm given the wrap up signal but manage a few photos and an Instagram update which Kerr did herself from my phone.
'I love Instagramming for other people! What would you like to say? Wow look at your hair and you look so young in this photo!'
It's become the most liked photo I've ever uploaded to Instagram and in a micro way goes to explain her magnetism and popularity.
I don't feel my questions were answered on any sort of deep level, or at all aside from platitudes about leading an organic life.
However, be it David Jones, Clear Scalp & Hair Beauty Therapy or her own line or Kora Organics, Kerr can do no wrong whether banal, or not it would seem.
* All of my questions were sent through the day before the interview for vetting and came back approved.
**links to related articles
'Victoria's Secret Angels go through hell to get in shape and stay slim for annual fashion show' via Daily News
'The race is on! Victoria's Secret models post last-minute diet and exercise pictures before New York runway show' via DailyMail.co.uk
'Adriana Lima defends extreme Victoria's Secret liquid diet, workout regimen,  says quotes were 'a misunderstanding'' via Daily News
Category: All Fashion,Opinion