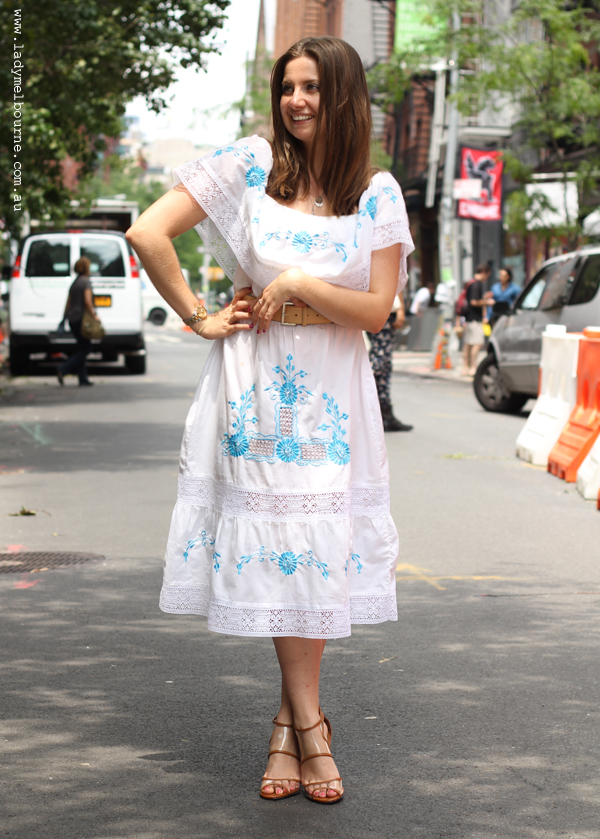 It is hot, it is sweltering, it is sticky. It rains and thunderstorms but is never cold, and so sunny days turn into balmy nights. I am not a person that takes kindly to humidity, but then I'm in New York and am not going to complain about the weather to you.
Having travelled half way around the world however from a city where you can literally have four seasons in a day, there has been an adjustment period while I'm here. You can leave the house wearing the same clothes…..all day? You don't need layers? I don't need to bring a jacket/sweater/scarf/insert extra layer of your choice, just in case?
THERE IS ONLY ONE FASHIONABLE CHOICE I NEED TO MAKE TODAY YOU TELL ME?!
You have probably noticed that I'm wearing mainly dresses on my trip and it's on account of two things: the unexpected, humid weather and the fact that I didn't pack for the tropics. Of course I have done my duty for the economy and bought a couple of summer dresses, but I've also been aware that what ever I buy has to translate to Melbourne, its climate and my lifestyle once I'm home.
There is nothing worse than unpacking after the trip of a lifetime and looking down at that tie-died caftan you bought on the beach in Bali for only $8 with the thought: what in holy hell was I thinking.
I've done it don't worry, I'm not above the holy laws of practical shopping while on holiday. I once bought a red, crochet, knit cardigan at the gift shop of a Gold Coast resort I was staying at that actually looked ok thrown over my bikini sipping cocktails by the pool. Straight to the Salvo's upon my return.
So, I suppose the lesson I've learned over the years when shopelling (shopping + travelling = shopelling. Go with me.) is that before you swipe that credit card ask yourself, 'Will I wear this back home?'
If the answer is anywhere remotely near, 'Only cleaning the bathroom, ' or 'Maybe to Zumba?' put that red, crochet cardigan down and walk away.
What I'm wearing:
Dress: Mexican number I picked up on Etsy
Heels: Marc Fischer
Bag: Sambag
Belt: Kookai