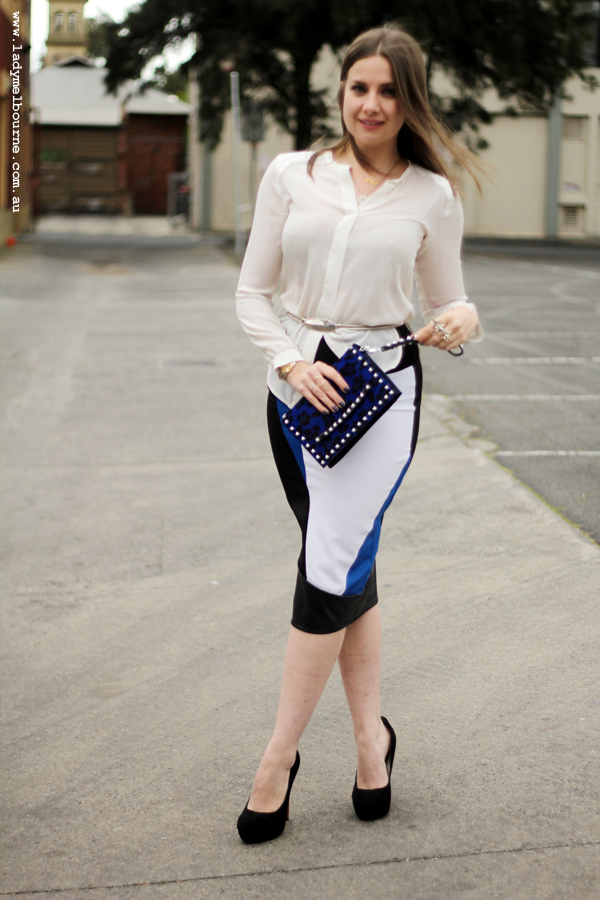 UK online retailer Boohoo.com are moving into the Australian market place in a big way at the moment. Having just got back from their SS 13 launch that will be exclusive to Australian shores, I can tell you that the momentum is well and truly in full swing.
I've found so far that their ranges are in the main part aimed at a younger demographic, with most styles being a/skin tight and b/mini or shorty short. Problematic.
I can tell you however that there are pieces in the Monoscope range that would suit any age, or like this skirt which is from the Future Sports range. I'm excited about it because I love a good pencil skirt!
These 'Layla' heels are from a Melbourne label called Zasel who are just about to branch out into evening bags and clutches. Like Boohoo, I've been lucky enough to preview the range and I can safely say, IT'S GORGEOUS!
And just to cap off this international outfit (did I mention my bag is from Hong Kong?!) this lovely gold infinity symbol necklace is from Irish designer Judith Ritchie who's Etsy shop is A Box For My Treasure.
What I'm wearing:
Skirt: Boohoo.com
Blouse: Unknown Label
Eternity necklace: A Box For My Treasure
Medallion necklaces: bought from a street vendor in New York
Belt: Sportscraft
Heels: Zasel
Bag: Hong Kong
Silver 'Vine' ring: Edenborough Evans