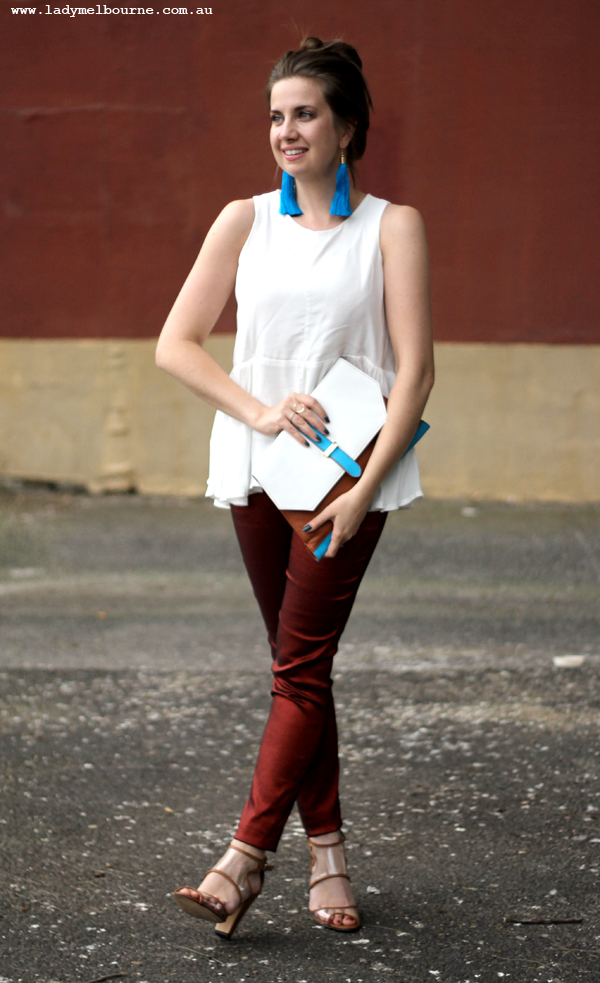 We have Melbourne Spring Fashion Week upon us next week and so that means that I end up wearing sometimes three outfits a day. Who am I kidding, I sometimes do that anyhow!
However, it's nice to be able to represent Melbourne or Australian based labels, and last week I connected with Mossman out of Melbourne. These 'The Pinnacle Of It All' pants are one of their best sellers and now I'm wearing them I can see why- they have a wonderful thick elastic waist band that just sort of, sucks you in, in all the right places. Plus they are cut to perfection so are slimming and in come in a stretch fabric.
I love the cheeky caged back of this top that is about to drop into stores as well, and I'm looking forward to wearing it next week to fashion week.
Recently I tried my hand at designing my own pieces of jewellery through a Melbourne based label iRock. The bag in this post follows the same proposition, where by you get to choose your own shape, colours and stitching through Aussie label Nude Bag. I'm really excited by the idea that as a consumer, you can design and order something completely bespoke.
When I thought about a bag that I didn't have in my wardrobe before I started the process, I realised I don't really own a lot of blue. I love it and wear it, so I thought I'd combine it with tan and white for ease of wear with what I already owned in terms of clothing and accessories.
I'm absolutely THRILLED with the result, and I kind of feel like I just want to keep on custom designing parts of my wardrobe to get items that I love and wear.
So now it's onwards towards Melbourne Spring Fashion Week wearing two new labels for my wardrobe with lots of pride!
What I'm wearing:
Earrings: Shag
Top: Mossman
Pants: Mossman
Bag: Nude Bag
Heels: Marc Fisher