'Hey Lady Melbourne would you like to fly to the Melbourne Cup Carnival?'
Well. Would I?! This was a first for LM, I can't say I've arrived anywhere in a chopper before. Until now – thanks to Heli Serv who sent off a casual email to see if I might like to hop on board to get myself to Oaks Day.
It's about a seven minute journey from the heli-port on the banks of the Yarra to Flemington, but we did a quick tour of the bay, down past Brighton then inland and back up towards the docklands and of course Melbourne's shimmering CBD. It's quite thrilling, being up in the air with nothing more than some plexiglass between you and the clouds. I can totally understand why the rich and famous get helicopters to ferry them about – it's quick, there's no traffic and when you arrive you are literally on the doorstop of where you want to be. No parking required. Where's that tattslotto ticket…
I digress, it was such a thrill and if you've ever considered chartering one for a special occasion, or even just jumping in one for a quick winery tour, it's worth it.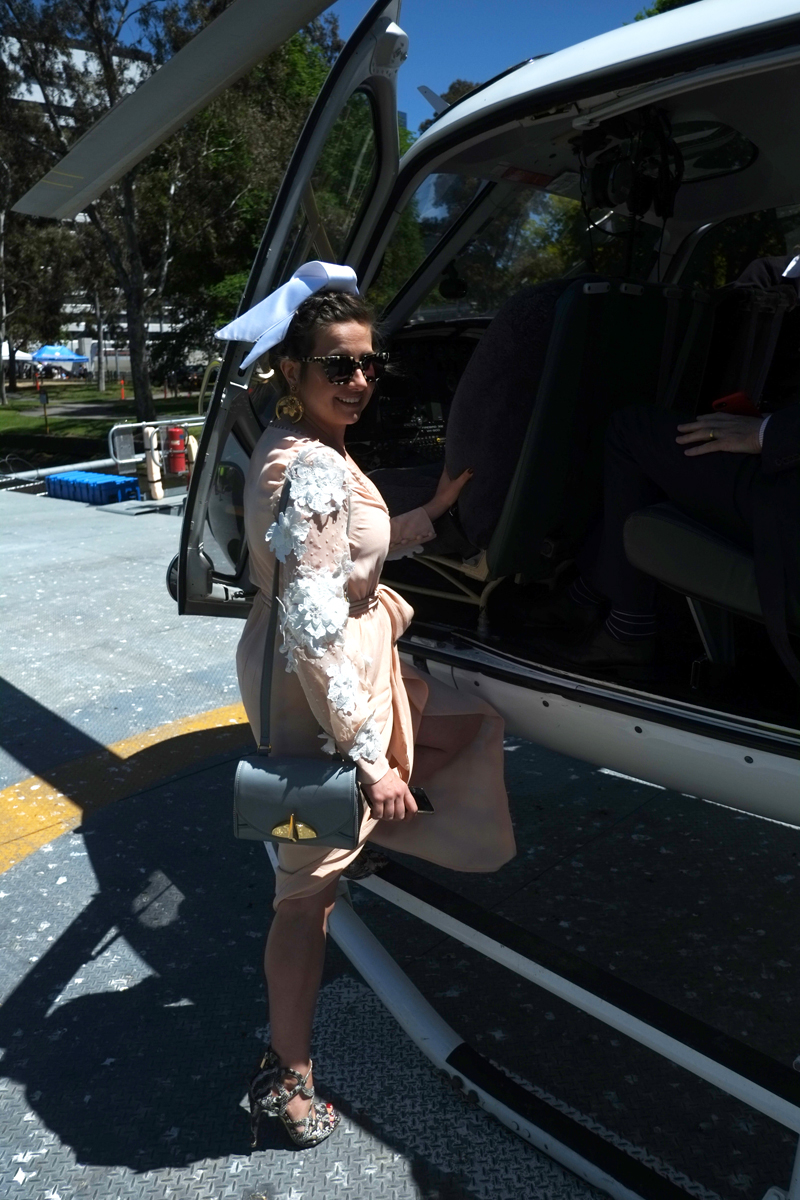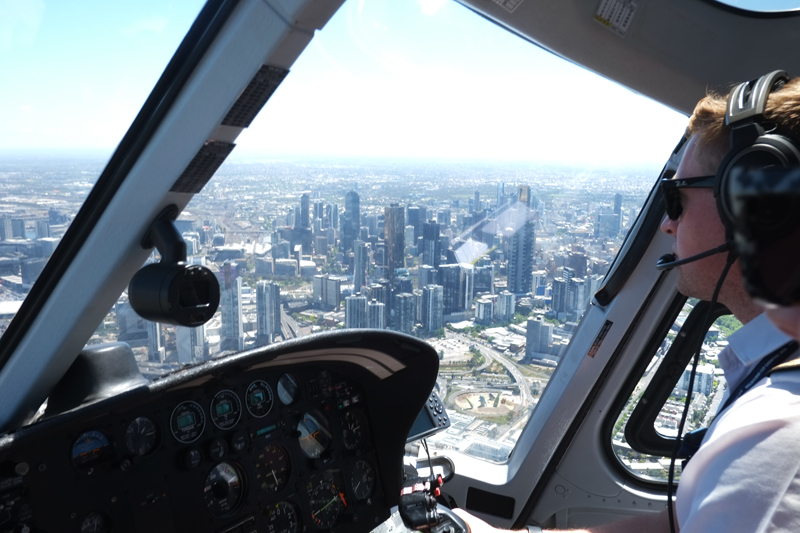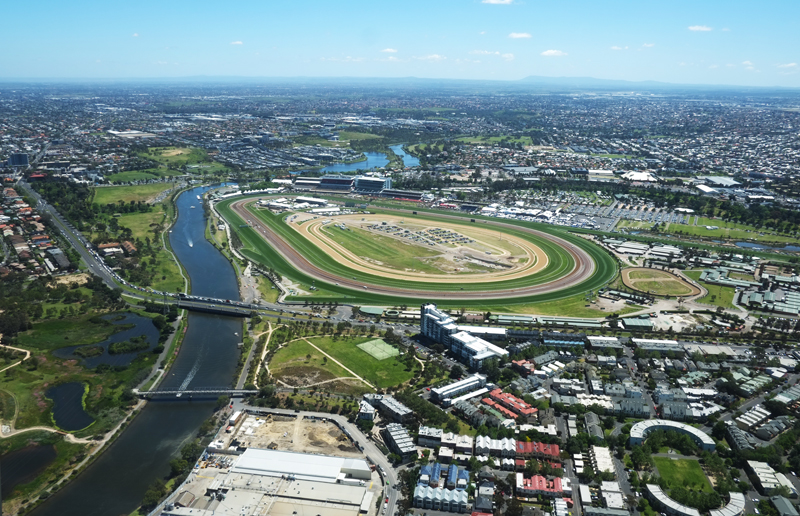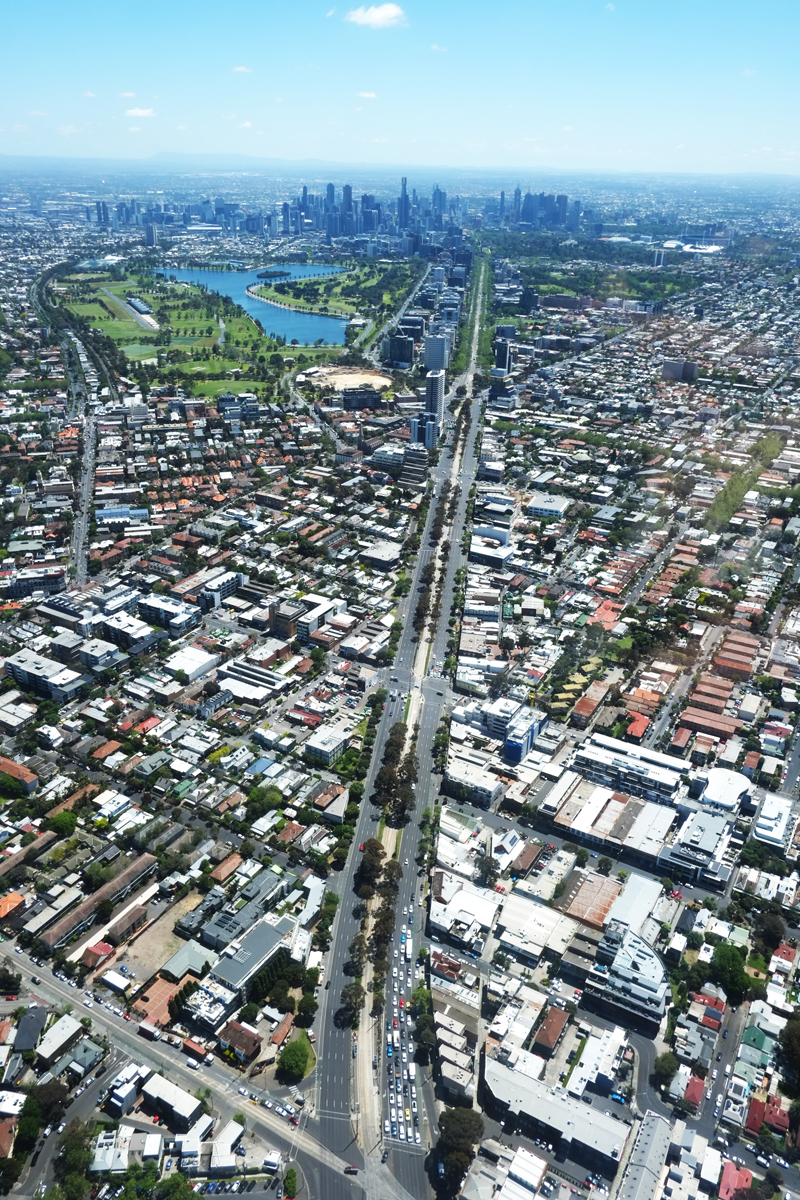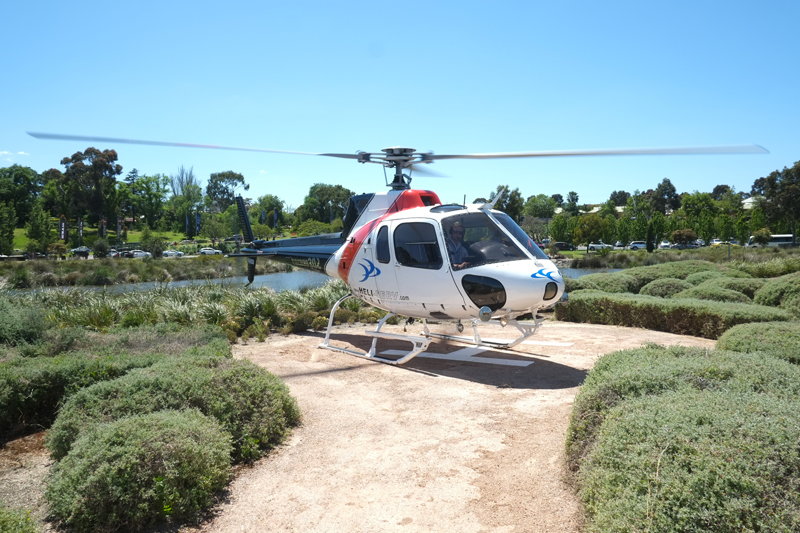 After we arrived, it was on to the Emirates Marquee, the theme this year being Australiana. You might remember all of the details from my Birdcage reveal post, now it was time to experience the food first hand in their restaurant. More on that below, most importantly we need to talk about what I wore!
I had worked with a Melbourne label to custom design a dress for Oaks Day, similarly to the gorgeous one I got to wear to Derby Day from Siyona. Sadly, on the day itself it was sitting in customs so I called upon my friends at StFrock to see if they could help me with something to wear. This is the Samara dress in blush that I've customised by adding the 3D flowers to the sleeves (just for that x-factor!) but the dress itself is so gorgeous it probably didn't need it. I can't help myself with details like that!
For my headwear I visited The Eternal Headonist and selected this Ann Shoebridge 'Azra' headband from her Lilac Nights collection. T.E.H has now opened a flagship store in Melbourne's iconic George's Building so you can pop in and buy everything from headbands to boaters and jewelled crowns all year round.
Just to finish things off I took my favourite Glomesh handbag and wore these Elizabeth Cole earrings I found on Shopbop.com. I didn't have any wins on the horses unfortunately so won't be buying that chopper anytime soon, but it was a fabulous day and I always appreciate that I get to attend the races in style. Even after nine years of blogging, it doesn't get old.