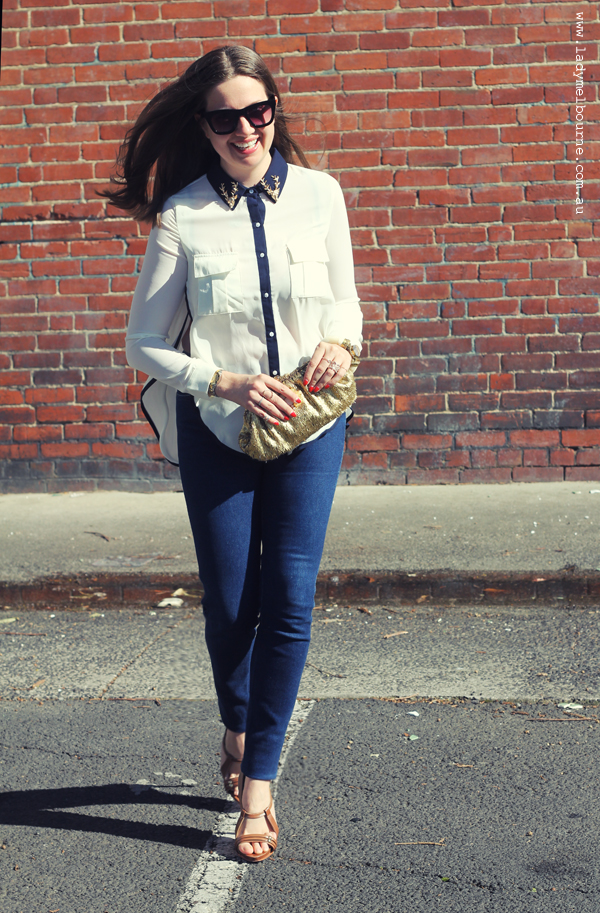 You may have noticed if you follow me on Instagram (and if you don't you are missing out!) that I attended the SS 13 launch for Sambag earlier in the week.
You've seen me wearing Sambag on the blog before, it's a fabulous Aussie label that was started at the Paddington markets by Sam Wagner in 1996.
It's grown now to include ballet flats, heels, accessories and apparel with beautiful stores around Australia and overseas.
"One of the label's strengths is that it answered to needs of the original customers – and Wagner herself – to provide stylish but affordable fashion that worked effortlessly with the client's lifestyle," their website tells us.
This clutch is the Karly Metallic Fringed Leather Baguette Clutch in Gold from their upcoming range, that will be available shortly. Make sure you keep checking the Sambag website for deets.
I'm also wearing a rather interesting shirt I picked up in New York from a label called Nu New York. I discovered their flagship store on Broadway up near Union Square while I was hanging out at The Stand bookshop one day, and I really loved the unexpected details in the clothes. As you can see this Metropolitan Two Tone Blouse is layered, and open at the sides. It sits like any normal shirt would, but as you move, it moves with you. I love it!
I could have shopped up a storm there, the only thing that stopped me was the sheer weight of my luggage which was at groaning point only a week into my trip.
Oh and one last thing- how gorgeous are my collar tips from St Frock!
What I'm wearing:
Denim: vintage Faberge jeans
Blouse: Nu New York
Cuff: New York, check out the blog post here
Heels: Susie Sawaya
Collar tips: St Frock
Pinkie ring: Benjamin Black Goldsmiths
Ring finger: Edenborough Evans 'Orchid' ring in silver