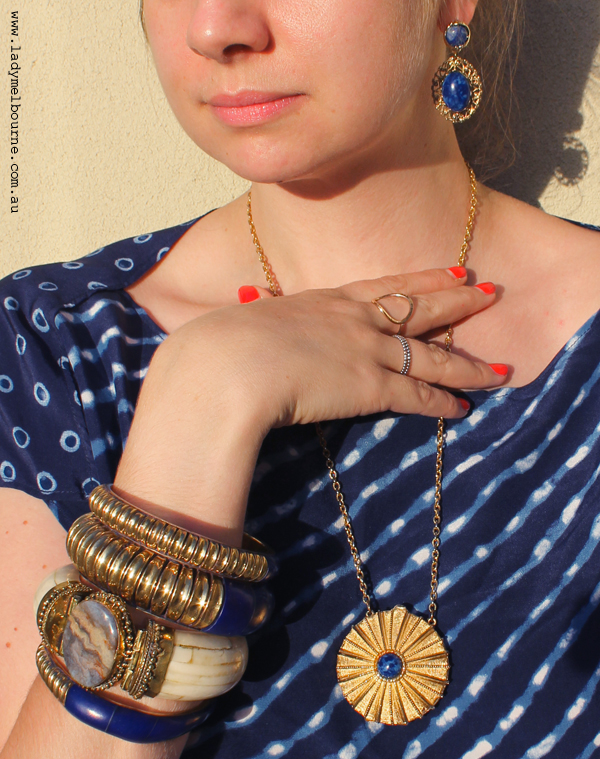 There are still things that I bought in New York that you haven't seen on the blog as yet. For a whole range of reasons, in the main part because I arrived home to the middle of winter and I purchased mainly things for summer.
But while I was fossicking about in my wardrobe I realised that no matter what the season, I can always showcase jewellery. As most of you would know I love, love, love jewellery and accessories having run my own accessories label for seven years. So I bought back A LOT of jewellery from New York when I was there in May/June.
And fossicking is an apt way to describe how I found all of these pieces. The necklace and earrings were found at the Chelsea Antique Garage one Sunday afternoon, and the cuffs were discovered in a shop on 2nd Avenue called Himalayan Vision. I only stumbled upon that shop as it was around the corner from where I was living, and something in the window caught my eye one day.
They sell everything from Tibetan jewellery to scarves and pashminas, prayer wheels, clocks and other handcrafts. I loved it, it was jam packed with all sorts of exotic and unusual things, and these cuffs were my purchase.
The necklace is actually a perfume pendant that had the original perfume balm in it. A bit yukky?! I could see the potential in the necklace however, and I simple dipped it in a glass of boiling water a couple of times and it eased out. Then I polished it up and here it is!
Also: can you tell I just love lapis?!
Cuffs: (no website that I could find) Himalayan Vision II Inc, 127 2nd Ave, New York, NY, United States ‎, +1 212-254-1952
Earrings & necklace: Chelsea Antique Garage, Chelsea, New York