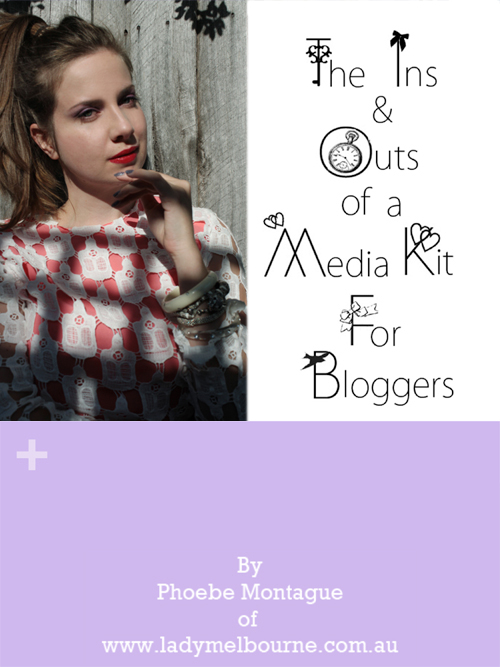 Here's what some of you have said about it so far:
"I highly recommend Lady Melbourne's e-book to all bloggers, whether they are dipping their toes into blogging for the first time or well on their way to establishing a successful, high-traffic blog. The layout, design and images are, in classic Lady Melbourne style, absolutely beautiful and the e-book is a visual pleasure. For the first time Lady Melbourne takes readers well behind the scenes of her award-winning blog, giving readers deep insight into how to run a commercially successful blog while maintaining a great  relationship with your audience. As an online entrepreneur, Lady Melbourne's e-book has given me crucial practical advice on the business side of blogging, including how to put together a media kit and develop a professional relationship with brands and advertisers."
Amelia Grevis-James, The Peach
T witter: @thepeacheditor
'Being relatively new to blogging, I have looked to more established bloggers such as Phoebe (aka Lady Melbourne) for inspiration and education. So when her eBook became available, and my wish to take my blog to the next level, it was a no-brainer as far as getting a copy of the Ins & Outs of a Media Kit for Bloggers. I would advise any blogger (or anyone who wants to know more about how to make media kits work for you) to grab your own copy. It's easy to read, full of suggestions and best of all she's done the hard work for you. All you have to do is design your own and you can't go wrong! Thanks Phoebe, keep up the great work!'
Kelly Wayne,  You Got That At An Op Shop?!
Twitter:  @perthopshopblog
 "The Media Kit for Bloggers gave me a great insight into improving my advertising and promotional opportunities within the realm of blogging. I have only recently begun my fashion blog; however, it's inspiring to think of where I could take it. Judging by the success of Lady Melbourne's own blog, this is insider information to good to pass up."
Erin Biskup, Australian Label Lover
"I make no secret of the fact that I have a huge girl crush on the most fabulous Phoebe Montague aka Lady Melbourne. My Friday's have been a whole lot happier since discovering her fashion blog and I just love her beauty tips and videos.  The fact that Phoebe's first ebook "The Ins & Outs of a Media Kit for Bloggers" was released just after I launched my Mystery Case blog was not only fantastic timing but a huge reason for me to love Lady Melbourne even more.
Phoebe's ebook is not only a fantastic informative guide for relatively new bloggers but I also highly recommend it for more established bloggers where their blogs could do with tweaking to take them to the next level, especially in terms of improving sponsorship/promotional opportunities and looking more professional."
I'm so passionate about what I do, I love blogging and I love talking about it to anyone who will listen, most of the time that's you! I'm really thrilled to hear such positive feedback and it fills me with joy that I can give back to the industry that I love so much.
My first ever eBook (detailed blog post here) is designed to help those of you who are looking to present your blog in a professional manner to potential brand partners and advertisers.
You'll learn about the importance of:
Why you need a media kit
Things to consider like royalty free photography, branding, consistency, design
Stats, traffic and brand association
Terms and Conditions
Rate Cards